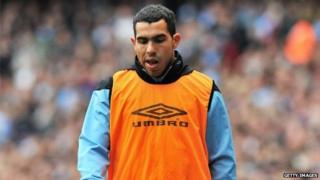 Getty Images
Manchester City boss Roberto Mancini says he wants Carlos Tevez out of the club.
He claims the striker refused to play during City's Champions League match against Bayern Munich.
Tevez was a substitute and was told to go on with 35 minutes left, but apparently he wouldn't budge!
But Tevez denies that he refused to play in the match, which City lost 2-0.
After the game Mancini said: "If I have my way, he will be out. He's finished with me."
But the striker has apologised to fans and said in a statement: "In Munich on Tuesday I had warmed up and was ready to play.
"This is not the right time to get into specific details as to why this did not happen. But I wish to state that I never refused to play."
Tevez has had a number of bust-ups with his boss, and tried to leave before this season started.
It's thought City were asking for too much money for him and he couldn't find a new club.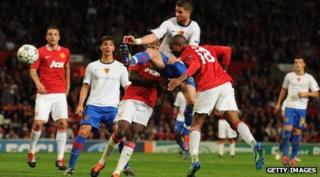 Getty Images
Manchester United drew 3-3 in their Champions League match against Swiss side Basel.
Danny Welbeck scored twice for United, but Basel came back and netted three goals in 16 minutes.
United looked like they were heading for defeat, but Ashley Young scored in the last minute to snatch a draw.