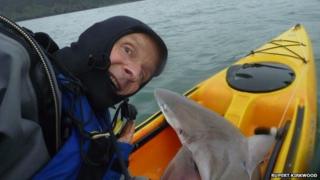 Other
A man fishing from his kayak was towed out to sea after a shark got hooked on his line.
Rupert Kirkwood was paddling around in north Devon when the creature took his mackerel bait.
He said it was "fun" as the shark pulled his plastic kayak away from shore like a scene from the movies.
Mr Kirkwood carefully wrestled the shark onboard to set it free and didn't get hurt.
He did managed to take some photos before releasing the big fish carefully back into the water.