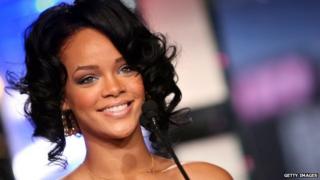 Getty Images
A farmer who said Rihanna could film in his field told her to cover up after she stripped down for a music video.
The 'Umbrella' star was filming her new pop video in a field in Bangor, Northern Ireland.
Alan Graham said: "I thought it was inappropriate. I requested them to stop and they did."
Mr Graham admitted that he didn't know who Rihanna was when he got a phone call to ask if she could use his land!
Hundreds of people stood by the roadside to watch the performance and some local schoolchildren filmed the event on their mobile phones.