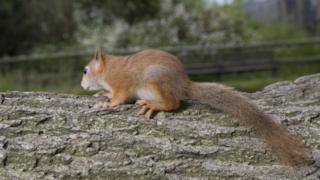 A project that makes it easier for red squirrels to find food is nearly finished.
Volunteers have been chopping down rhododendron bushes on Brownsea Island, off the Dorset coast for fifty years.
When the bushes flower they stop other trees from growing, making it hard for squirrels to find plants that carry their food.
The Dorset Wildlife Trust have been clearing rhododendrons off the island and they've nearly finished the job.
No-one's measured the number of red squirrels in the area but experts think that there are around 250 on the island.
That should increase as the forest grows and regenerates itself over the next ten years.
The project should be completed by next spring.
In the future there will be occasional visits from volunteers to trim trees and keep the woods clean.
Around half of British red squirrels have disappeared in the past 50 years according to a recent study.
Some experts think they could disappear completely from the English mainland within 20 or 30 years.