Stricter rules on using whips in horse racing are being introduced.
The number of times a jockey is allowed to whip a horse during a race will be almost halved.
There will also be more serious punishments handed out if the rules are broken - riders could be fined and lose part of their winnings.
Animal rights groups have welcomed the changes, and top jockeys and trainers support them too.
From 10 October, jockeys will only be able to use their whips seven times in flat races and eight in races over jumps, with a maximum of five times in the final bit of the race.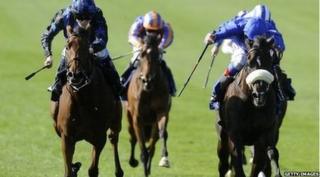 Getty Images
They'll have to pay a fine if they are found guilty of over-using their whips, and could face a longer ban from the sport.
In this year's Grand National, the winning jockey Jason Maguire was suspended for five days for whipping his horse too much. Under the new rules he would have to pay around £40,000.
Professor Tim Morris from the British Horse Racing Association says that there should not be a total ban on whipping.
He says: "If you are on a half-tonne of horse going at nearly 40mph over a jump and there are 20 other horses around you, you need a tool to steer, correct its stride, and balance a horse. It's a very risky sport and we've got to look after jockeys' safety."
Top jockeys and trainers support the rule changes.
Champion Frankie Dettori, who was banned for nine days this year for using his whip too much, says: "I accept these new rules are in the best interest of our great sport."