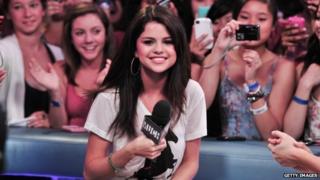 Getty Images
Selena Gomez will host the MTV Europe Music Awards (EMAs) in Belfast.
As well as presenting, she'll give updates of all the backstage gossip on the MTV website, at the ceremony on 6 November.
Lady Gaga's the artist with the most nominations this year - she's up for six awards including best pop act.
Selena's boyfriend Justin Bieber is up for three prizes too. Selena says hosting the show is "a dream come true".
"This is such a huge event that always recognizes the biggest stars in music from across the globe, she said.
"It's a real honour to be MC at this year's show."
Katy Perry and Justin Timberlake have both presented the awards in previous years.