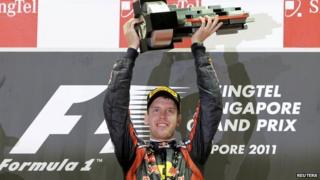 Reuters
Sebastian Vettel has won the Singapore Grand Prix.
The triumph was the Red Bull driver's ninth victory in 14 races this season.
Vettel only needs one more point from the last five races to become world champion for the second time running.
The German raced pass Jenson Button, who finished second ahead of Red Bull's Mark Webber.
Vettel said: "It was nice to come back here and get the job done."
McLaren's Lewis Hamilton came fifth in the competition after smashing into another car.
Hamilton was penalised after he turned into Felipe Massa's vehicle.
He damaged his front wing and punctured Massa's rear tyre.