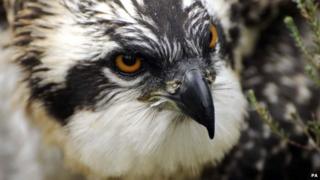 PA
Cameras are being used by police to try to keep birds of prey safe.
Nests are being fitted with the equipment which will allow officers at Dumfries and Galloway Constabulary to monitor nest crime.
Wildlife officer Pc Jim Drysdale said the cameras would help keep a check on nests in remote areas. The nests will also be rigged with alarm systems.
And if there's any suggestion of illegal activity police will be sent out to investigate.
PC Drysdale said: "Now when the alarm system goes off we just monitor a screen and see if anything has happened.
"If this system prevents people coming into Dumfries and Galloway and stealing nests, eggs, chicks or whatever, that is just as good to us."
Dumfries and Galloway Constabulary is thought to be one of the first forces in Scotland to introduce the equipment.