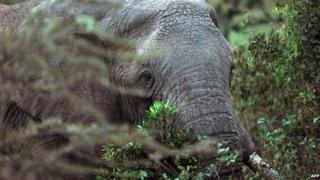 AFP
A massive operation has begun to move 200 elephants across Africa.
The animals, which live in the wild at the moment, aren't very popular with people living nearby because they keep eating crops.
So they're being loaded onto trucks and transported safely to the Maasai Mara game reserve in Kenya.
It's going to cost thousands of pounds to move the elephants but experts say it's essential to stop problems between humans and elephants.
The animals have been stranded in the Narok area of Kenya for the last 20 years, after their access to the was Maasai Mara cut off when people moved into the area.
Locals welcomed the move saying that as well as eating crops, the elephants had also killed several people.