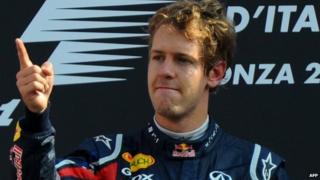 AFP
Ferrari's Fernando Alonso says his rival Sebastian Vettel deserves to win the world title.
If Vettel wins the Singapore Grand Prix on Sunday, he could be in line for the racing crown. But it all depends on where the other drivers finish.
Alonso said: "He's been the best driver, (with) the best team. They deserve to be where they are."
Vettel has won eight of the 13 races so far this season and has taken 10 pole positions.
But despite the pressure to come out on top, Red Bull's Vettel says he's staying cool.