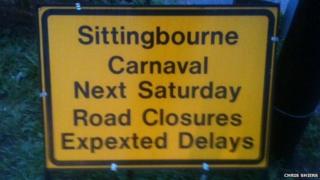 Other
Carnival organisers in Sittingbourne in Kent are recalling road signs after some pretty bad spelling errors were spotted in them.
The signs, put up by Sittingbourne Carnival Association to warn of road closures, refer to the "Carnaval" and warn of "Expexted Delays".
Pam Griggs, from the association, said the signs would be changed.
She said: "People will either think we are stupid and we can't spell or they will have a good laugh.
"At least people are reading them."
Sittingbourne carnival takes place on Saturday.