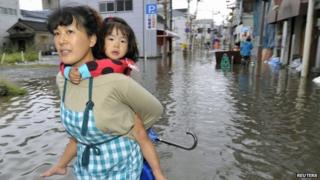 Reuters
A powerful tropical storm has killed 10 people in Japan.
Typhoon Roke hit on Wednesday, pummelling the country with heavy winds and rain.
There were big worries the storm would hit Fukushima, where a nuclear power station was damaged by the earthquake in March 2011.
But officials say the plant has not been affected.
In some areas up to 42cm of rain fell causing landslides and floods.
Hundreds of families, still living in shelters after the tsunami in March, had to move to higher ground to escape the water.
The storm has now headed north and weather forecasters say it's starting to die down.