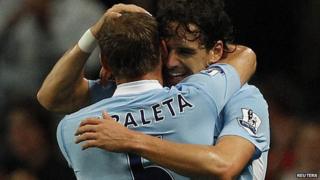 Reuters
Owen Hargreaves marked his Manchester City debut with a goal as his new team beat holders Birmingham City in the League Cup.
After leading City to the 2-0 win, Hargreaves said: "I feel good.
"It's my first real game action in, I think, three years and four months... [But] I put in a lot of hard work in the summer."
Elsewhere in the competition, Liverpool went through to the next round with a 2-1 win over Brighton.
Liverpool captain Steven Gerrard made his comeback after six months on the sidelines to see his team through.
And in London, Bryan Ruiz missed the crucial spot-kick as 10-man Chelsea moved into the fourth round with a penalty shootout win over Fulham.
After a 0-0 match, the Blues won 4-3 on penalties.
There were also wins for Everton, Southampton and Cardiff.