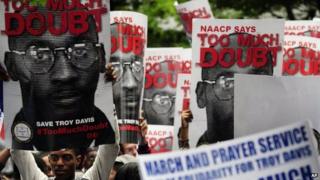 AP
Vigils have been held in America after officials carried out the death penalty on a convicted killer.
Troy Davis was found guilty of killing a police officer in the state of Georgia more than twenty years ago.
He was put to death late on Wednesday after a last minute appeal by his lawyers failed.
He denied commiting the crime and around the world millions of people campaigned to save him.
Davis has spent twenty years on death row - a special section in some US prisons where people who've been found guilty of the most serious crimes are sent.
He was put to death by lethal injection, which is supposed to be one of the most painless ways of killing someone.
In America, the legal system is different to the UK. In many states, the law says that the punishment for people who commit serious crimes, like murder, can be death.
Britain stopped using the death penalty back in 1969, and today no European country has it.
Europe opposes any use of the death penalty, whatever the circumstances. But it is still used in many other countries round the world including Iran and China.