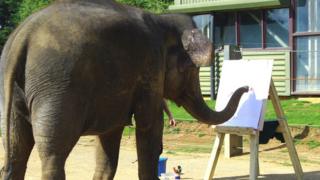 An elephant at ZSL Whipsnade Zoo has shown her keepers a flair for art.
Karishma, who's 13-years-old, loves nothing more than grabbing a paintbrush and creating colourful scenes on canvas.
Elephant keeper Elizabeth Becker says: "Karishma really enjoys painting, and it demonstrates just how dexterous elephants' trunks really are.
While her paintings may not be as detailed as a Da Vinci, we think the finished products are pretty amazing!"
It's Elephant Appreciation Day this weekend, so Karishma is busy putting the finishing touches to her masterpieces.