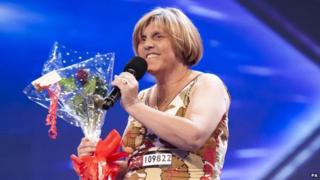 PA
The X Factor has been called "cruel" after it showed a woman fail her audition for the fourth time.
Sunday's show featured Ceri Rees from Wales, who struggled to sing in tune and was rejected by the judges.
Ceri sang I Dreamed A Dream from the musical Les Miserables and I Will Always Love You by Whitney Houston but failed to get through and was laughed at by the audience.
She then left the stage looking upset and said: "stuff it".
Some internet fans and even celebrities have said they think showing the audition on TV was unfair and uncomfortable to watch.
Singer Lily Allen wrote on Twitter: "they shouldn't have aired that audition", while viewer Lance called it "bullying". TV presenters Lorraine Kelly and Richard Madeley said they didn't like it either.
The X Factor team has said it was right to show the audition because Ceri wanted to be judged by a new panel.
They also said they have spoken to Ceri since her audition and that she's happy she went on the show.