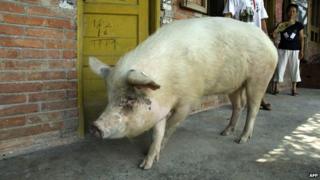 AFP
A pig who was hailed a hero after surviving an earthquake in China has been cloned by scientists.
The animal, called Zhu, managed to stay alive for 36 days under rubble when the country was rocked by the massive quake three years ago.
Zhu is thought to have survived in the ruins of his sty by munching charcoal and drinking rainwater.
Now scientists have produced six piglets identical to Zhu, who is five - that's 60 in human years!
They had to clone him because Zhu can't make babies naturally. His full name is Zhu Jiangqiang, which means "strong-willed pig".
Cloning is when a living thing is created that is an exact genetic copy of another. This means both the original and the copy have exactly the same DNA - the stuff that makes you, you and a pig, a pig!