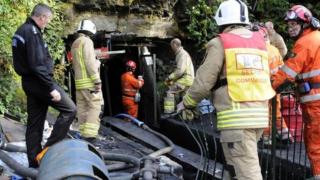 AFP
The four miners who got trapped 90m underground in a mine near Swansea, south Wales, have all been confirmed dead.
The men became stuck in the mine on Thursday morning, after a flood cut off their escape route.
Divers tried to reach them but had to turn back because the water was too murky.
On Friday evening, police confirmed that the fourth man had been found dead.
An investigation is now being launched into how the miners became trapped in the drift mine.
A drift mine is a mine that is cut into the side of a hill.
Many people from local communities have shown their support for the trapped men, including the Wales rugby team who are in New Zealand for the Rugby World Cup.