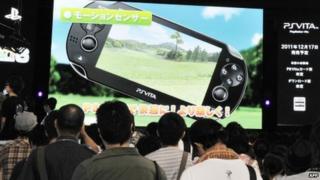 AFP
Sony has been showing off its new handheld console at a big gadget show in Japan.
The PlayStation Vita will go on the market in Japan in December but it won't be available here until early next year.
The PSP follow-up has a touchscreen on the front but also a touchpad controller on the back.
When it's released, PS Vita will go head-to-head with Nintendo's 3DS.
26 games for the Vita will be available on the day it's launched, with more on sale later.
You'd better start saving that pocket money now though: it could cost close to £300.