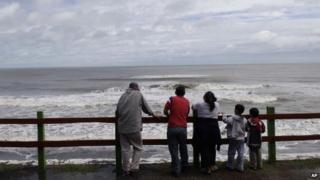 AP
A charity reckons that your happiness depends on how much time you spend with your family.
Unicef say 'parent time' and having plenty of things to do beats watching TV or playing on the computer.
But we want to know what YOU think.
What sort of things do you like to do with your parents?
Do you think you get to spend enough time with your parents or would you like more?
Does spending time with a parent make you happy? And if not, what do you think really makes you happy?
And if you're reading the Newsround website from Sweden or Spain, we'd especially like to hear from you!
This comments page is now closed but you can read a selection of the best ones below.
Your comments:
"Well me and my mum are going spend lots of time with each other really soon. We're going to Disneyland Paris in November so both me and my mum will spend 5 days spending time going round the park and going on the rides."
Carys, 13, Wales
"I love spending time with my family and I would rather spend it with them than my friends! But most of the time they are busy... but that's because they both work so much. So in a way it's sort of good, but I do wish I could spend more time with them."
Sian, 13, London, England
"My parents are busy every day - even in the evenings and at the weekend. That means I don't have enough time to spend with my family, even though I'd like to spend a lot more time with them."
Claudia, 14, Jakarta, Indonesia
"I don't get to spend that much time with my dad. My mum's lovely... but doesn't have a job so I see her lots and kind of get bored of it!"
Sophy, 9, Norfolk, England