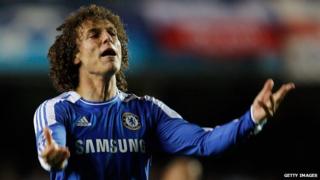 Getty Images
Both Chelsea and Arsenal were in action in the Champions League on Tuesday.
There was good news for Chelsea fans who beat Bayer Leverkusen 2-0 at Stamford Bridge.
It was manager Andre Villas-Boas' first game in charge in the Champions League.
Elsewhere, Robin van Persie put Arsenal ahead just before half-time. But they had to concede a late equaliser, finishing with a 1-1 draw against German side Borussia Dortmund.
On Wednesday Manchester City play their first ever match in the Champions League. They host another fellow new-comers Napoli.
And Manchester United are in Portugal to take on Benfica.