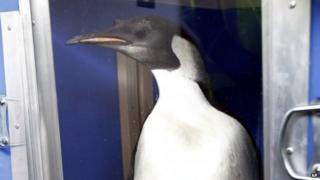 AP
Happy Feet the penguin is missing in action, just days after being released back into the Southern Ocean.
The young emperor penguin washed up on a New Zealand beach in June, miles away from his home in the Antarctic.
He was fitted with a tracking device and released back into the wild, after recovering from an operation to remove 3kg of sand from his stomach.
But the transmitter has been silent for days now. It's thought it may have fallen off or stopped working.
Another theory is that Happy Feet may have been eaten by a predator, although experts say that's the least likely option.
Kevin Lay, who's from the company that fitted Happy Feet's transmitter, said it was always intended to fall off... just not so soon!
They said they'd used superglue to stick it to Happy Feet's feathers and hoped it would stayed in place for about five months.
"I wouldn't be too worried for Happy Feet," he said. "I'd be concerned that the transmitter fell off so soon."