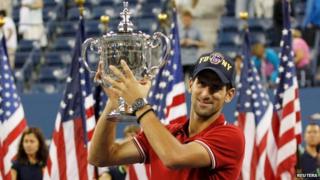 Reuters
World tennis number one Novak Djokovic has been crowned US Open men's champion.
It took the Serb a little over four hours to beat Rafael Nadal in four sets.
"It's an incredible feeling," said the 24-year-old. "I've had an amazing year and it keeps going." Novak's only lost only two of his 66 matches in 2011.
He now holds the Australian Open, Wimbledon AND US Open titles!
Rafael and Novak faced each other in the US Open final in 2010 - but Rafael came out on top.
Novak said: "Every time I play Rafa it's a big challenge. He's had a great tournament and I wish we have many more tough matches in the coming years."