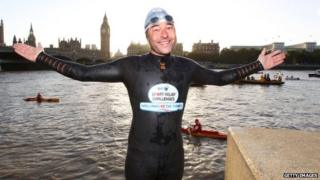 Getty Images
David Walliams has completed his epic swim along the length of the River Thames.
The comedian was greeted by screaming fans and celebrities at the finish line opposite the Houses of Parliament last night.
After finishing he joked: "A bath is the only water I want to see for quite a while."
He has raised more than £1 million for Sport Relief during his 140-mile swim which he started on 5 September.
The last part of his journey was one of the hardest, as he had to battle strong currents.
He told reporters: "It was really, really tough and the distance took it out of me. I did a lot of training but I don't know quite how you can prepare for this because it's an endurance event."
Despite finding it difficult he said seeing the the Houses of Parliament near the finish line in the sun was "beautiful".
"I felt really proud to be British and really proud that all the people cared," he said.
Along the route David battled cold temperatures, came down with a tummy bug and swam through 500 million litres of raw sewage that's in the water. Over the weekend he even managed to rescue a dog that couldn't get out of the water!
His biggest fan (his mum Kathleen) said: "He's sort of the nation's sweetheart because he's doing this - rescuing dogs along the way and waving to people when all he wants to do is lay down almost. I'm very, very proud of him!"