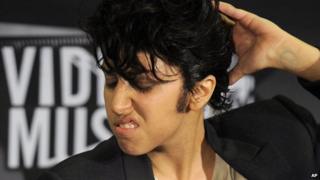 AP
She was born this way - or was she? Lady Gaga introduces us to her male alter-ego Jo Calderone for the release of her new single, You and I. Will it be a 'monster' of a hit?
The style
Lady Gaga has gone all country and rock 'n' roll on us! She's ditched the dancefloor for electric guitars (there's even a guitar solo!), making this a very different offering from recent stompers Judas and The Edge of Glory.
The song's about Gaga returning to woo back a former love. It's a mid-tempo number that allows her to show off her impressive vocals.
Will you still be humming it next week?
It takes a few listens to get used to, but it's a grower so give it a week or two.
Will it make the charts?
Lady Gaga's never had a problem making the charts. We reckon it'll go top ten.
NR rating: 3 out of 5