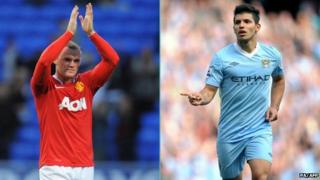 PA
There were more big wins for the Manchester footy teams in the Premier League over the weekend.
Wayne Rooney scored his second hat-trick in a row to help United thrash Bolton 5-0.
Sergio Aguero got all three goals for City in their 3-0 win against Wigan.
United are still top of the league with City just behind them.
Neither team has dropped a point yet this season.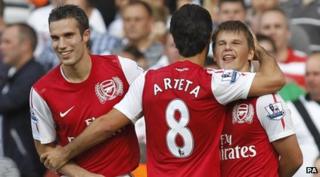 PA
Arsenal got their first league win of the season, beating Swansea 1-0 in a pretty strange way.
Swansea goalie Michel Vorm threw the ball out to one of his defenders, who wasn't ready for it. The ball bounced off his legs into the path of Arsenal's Andrey Arshavin who slotted it into the goal.
There were also wins for West Brom, Stoke, Chelsea and Tottenham.
Fulham took on Blackburn and Everton played Aston Villa with both matches ending in draws.
Hat-trick hero
Wayne Rooney is only the fourth player ever to score three goals in two Premier League games in a row.
The striker said: "It was a great afternoon for us... I'm pleased to get another hat-trick. It's a great feeling for me."