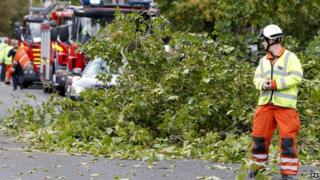 PA
Strong winds are hitting parts of Scotland, Northern Ireland, northern England and northern Wales today.
The gusts are the remainders of Hurricane Katia. Though they're not as strong as the hurricane in America, the bad weather is still causing problems in parts of the UK.
How has it affected you? Has the windy weather meant your school's been closed or you've had to stay indoors?
Or maybe a member of your family or your neighbour hasn't been able to go to work?
Thanks for all your comments - this page is now closed.
Your comments:
"The wind is quite strong over here in Newcastle. I had my window open and my bed shook. My mum went outside to hang the washing up and it fell straight off!"
Shannon, 12, Newcastle, England
"It's not hit Brighton yet, but my teacher said that her tree in her front garden was knocked down. I don't think it will be that big a hurricane. We still go to school and are allowed outside."
Emily, 10, Brighton, England
"Today as I went to school we walked past a lorry that had been blown over! Our school bushes have been blown over too."
Hollie, 10, Aberdeenshire, Scotland
"OK, but I was in English and a lamppost was shaking!"
Holly, 11, South Ayrshire, Scotland
"I heard about the storm two days before it was predicted. I live in south London and it has been very windy over here, but nothing major has happened and if I hadn't heard about the storm I wouldn't have suspected anything."
Imaan, 11, London, England
"It's really bad here! At our school the telephone wires were coming down and loads of trees came down. My favourite tree in my garden is about to come down."
Tabby, 11, Glasgow, Scotland
"It is getting very strong here in Stirling, trees are going everywhere, lots of things like leaves and bins and signs everywhere."
Sophie, 14, Stirling, England
"We were in school listening to the wind. It was that bad one of the windows blew out."
Lauren, 11, North Lanarkshire, Scotland
"It's really horrible here. We have really tall, thin trees outside our home, and the wind keeps blowing them so hard that I think they're going to smash into our house. It's scary."
Annabelle, 12, Tweeddale, Scotland
"My friends and I were walking home and all of a sudden something creaked, we looked up and saw a big branch was falling so we had to run as fast as possible."
Ella, 10, Leeds, England
"The wind is really bad here, I had to walk home and sometimes I had to stop and hold on to a street light pole to stop myself from being blown back... My hair was ruined!"
Niamh, 13, Banbridge, N. Ireland
"The wind has really picked up where I am. Our umbrella flew away and got stuck in a really high tree. Our deckchairs flew into someone's garden and two got broken. We are getting our garden done and the sand has spread across it."
Alice, 13, Huddersfield, England
"I'm in Dublin and our school is beside the sea. The wind is so bad our skirts were flying up all afternoon!"
Hannah, 10, Dublin, Ireland
"It's very windy and rainy here, my umbrella broke from the strength of the wind!"
Sarah, 11, Oxfordshire, England
"The wind is really strong in the south-east where I am, but I bet it's way worse in places like Scotland!"
Meg, 12, England
"The wind blew a panel off our conservatory!"
Jacob, 12, Cardiff, Wales
"When we were driving today there was a tree blown over on the road and everyone had to go around it."
Kaylin, 12, Oxfordshire, England
"The bad weather is not as bad as other places in the UK where I am, but the winds are very strong and an outdoor deck umbrella has flown from someone's garden to our garden."
Beth, 13, Stoke-on-Trent, England
"I saw on the news that this happened - I hope everybody is OK."
Daniel, 12, Birmingham, England
"The wind is sooo STRONG that it blew off all the clothes on the washing line."
Ayshia, 12, West Yorkshire, England
"I am very upset - I was looking forward to going outside but I have had to stay in my house and do my homework!"
Kai, 10, West Lothian, Scotland
"The storm's really bad here - you are lucky that you're in England."
Sophie, 12, North Lanarkshire, Scotland