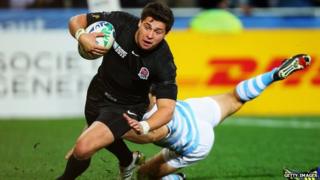 Getty Images
England and Scotland both won their opening matches at the Rugby World Cup in New Zealand.
Martin Johnson's England side scraped home 13-9 with a very scrappy display against Argentina on Saturday.
And Scotland were 34-24 winners over Romania, but that too was a nervous performance.
Wales just missed out on a huge upset, losing 17-16 to the current champions, South Africa - a tight match the Welsh should have won.
Ireland got off to a winning start by beating the USA 22-10 - and again it was a low-quality affair for the men in green.
But it's not unusual for the better sides to start scrappily in the group stages at a World Cup, and there is still time for improvement before the tournament really gets going.
England's manager Martin Johnson was relieved that his side managed to win, despite giving away far too many penalties: "We got the win. It wasn't a fantastic performance by any means, but a fantastic win in the circumstances."
Jonny Wilkinson had a rare off day with the boot, missing five kicks at goal, but Ben Youngs provided a ray of light when he came off the bench to score the only try of the match with just 13 minutes to go, when England were 9-3 down.
And Scotland looked in trouble, losing 24-21 with just 12 minutes left on the clock, before Simon Danielli scored two late tries to give them the win.
But it's Wales who'll be most disappointed with their result.
In a tense encounter with South Africa, they stood firm in the first half and dominated play throughout the second half, but a handful of costly errors at crucial times handed the victory to the 2007 champions by the narrowest margin.