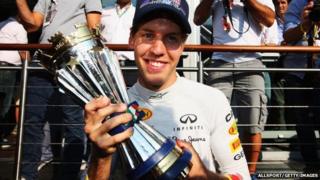 Getty Images
Red Bull driver Sebastian Vettel has edged closer to holding onto his Formula 1 world title, after winning the Italian Grand Prix.
Sunday's victory puts him 112 points ahead of his nearest rival, Fernando Alonso of Ferrari.
A win at the next race in Singapore could guarantee the championship for Vettel.
Alonso took an early lead in Monza, but Vettel re-passed him on lap five and steadily built his lead from there.
British driver Jenson Button of McLaren came second and teammate Lewis Hamilton finished fourth.
Alonso now says he's given up all hope of catching Vettel this season: "Six races to go so obviously the championship is impossible. Not mathematically but we are no longer in contention.
"We are fighting for second place in the championship," he said.