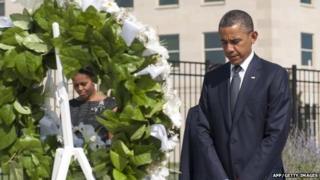 Getty Images
US President Barack Obama has joined millions of Americans in marking 10 years since the September 11 attacks.
Almost 3,000 people died in 2001 when four planes hijacked by terrorists crashed at three sites.
Ceremonies were held on Sunday at those spots - the World Trade Center in New York, the Pentagon in Washington DC, and a Pennsylvania field.
Mr Obama told America to honour those who died, but to look to the future with "hearts full of hope".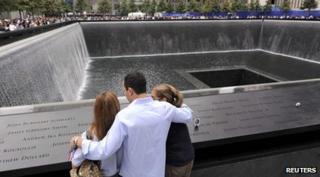 Reuters
A memorial was unveiled where the World Trade Center twin towers used to stand in New York.
It's two giant reflecting pools with all the victims' names etched around their edges.