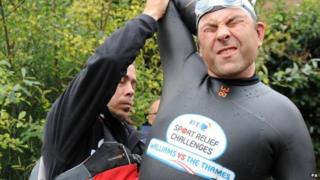 PA
David Walliams has passed the halfway mark in his 140-mile swim along the River Thames, despite still battling a stomach bug.
The comedian and children's author even managed to tuck into some fish and chips to celebrate.
His mammoth swim is expected to take eight days, but he's been slowed down by the bug as it keeps making him sick.
He has stiff shoulders from swimming and neck sores from his wetsuit, but he's also raised more than £450,000.
David said he was learning to live with the stomach bug, and thanked everyone who's turned out to cheer him on during his epic swim from Lechlade in Gloucestershire to London.
"It's fantastic to be half way - although if I think for too long about the fact that I've got to do as many miles again, I feel even sicker than normal," he said on Friday.
"The support from the public has really taken me by surprise - not just the money raised so far but the thousands and thousands of people who are turning out to cheer me on.
"I can't tell them how much I appreciate it or how much it lifts me."