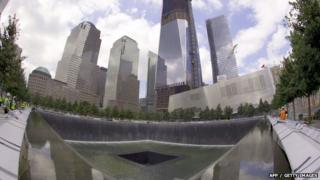 AFP
The twin towers of the World Trade Center are being replaced by a memorial and five new towers.
The architects behind the new World Trade Center say they want it to balance the memory of what happened on 11 September 2001, with a city that's moving forward.
The memorial
The footprints that mark where the twin towers once stood have been turned into waterfalls at the heart of the new World Trade Center site.
Called Reflecting Absence, the two pools of water are designed to reflect the light, and each has the names of those who died in the attacks engraved around them.
The memorial will be completed in time for the 10-year anniversary of the attacks on 11 September 2011.
A national September 11 memorial museum is also due to open at the site in 2012.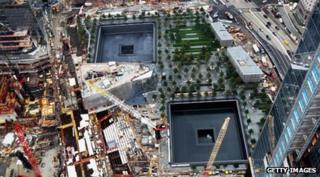 Getty Images
The new towers
The Freedom Tower will be the tallest of the new towers at the World Trade Center and is due to open at the end of 2013.
When it's finished, the 104-storey building will be exactly the same height as the twin towers were, at 427m high, but its antenna on top will see it reach a total height of 541m.
The other four towers will form a semicircle around the memorial in the centre.
Two of the towers have been designed by top British architects, Lord Norman Foster and Lord Richard Rogers.