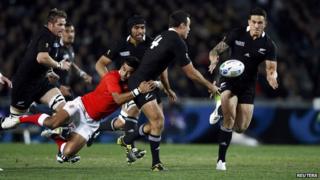 Reuters
The 2011 Rugby Union World Cup has kicked off in New Zealand!
Over the next six weeks the top international rugby union teams from around the world will be battling it out to be crowned top dog.
We want to know: who do you think will win? Do you think that England have a chance at the trophy? Or maybe you reckon Scotland or Wales could lift the cup for the first time?
Could New Zealand have the home advantage and take the lead? Or perhaps you reckon that South Africa will be the team to beat?
Whoever you think will win, we want to know!
This page is now closed.