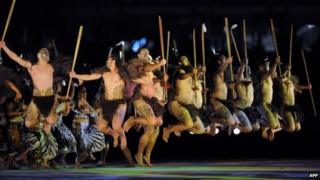 AFP
The Rugby World Cup has begun in New Zealand with a spectacular opening ceremony.
The hosts are the favourites to take the trophy, and they got off to a great start beating Tonga 41-10 in the first match of the tournament.
There will be loads of pressure on them though, as they haven't won a World Cup since 1987.
The competition's 48 matches are played over the next six-and-a-bit weeks, with the final on Sunday 23 October.