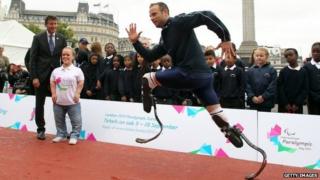 Getty Images
Tickets for the London 2012 Paralympics have gone on sale this morning.
Fans have just over two weeks to apply on the official Games' website.
It's the same system as the Olympics- if too many people try to get tickets to the same event, there will be a ballot to decide who gets what.
More than 4,200 athletes from 150 countries will take part in the Games from 29 August to 9 September 2012.
There are 1.5 million tickets available from today with another 500,000 up for grabs later.
Unlike the Olympics, you'll be able to get a day pass which will let you watch any sport at the Olympic Park or Excel venue that day, apart from athletics, cycling, swimming and some medal events.
People have got until 26 September to apply in the first-round of tickets, and you'll find out what you've got on 18 November.