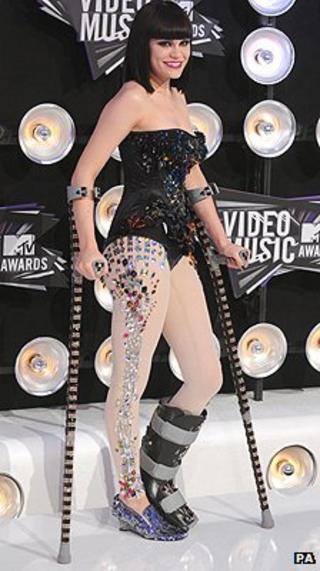 PA
Jessie J has revealed she cancelled gigs this summer after having a bone transplant to fix her ankle.
The singer pulled out of festival appearances at T In The Park and Lovebox.
Jessie said: "None of my ankle bone is now mine. I've now had someone else's put in."
But she made it on stage for Glastonbury, V Festival and The Big Chill - even though doctors told her she had to rest instead.
The 23-year-old was so keen to get stage she changed her performance so she sang sat down.
Jessie J injured herself after falling off stage during rehearsals for a show at Wembley Stadium in June.
She said: "It's worse than people think it is because I haven't really gone into detail about it.
"If I can never wear heels again then I'll just have to get some bad boy trainers. It is what it is."
Jessie's still in pain but said she's on the road to recovery now:
"It's slowed me down a bit but now I'm fighting. Now I'm getting better. I'm coming back and even harder."