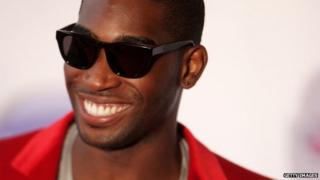 Getty Images
Tinie Tempah has been dropping more hints about who he wants to work with on his new album.
The cheeky rapper told journalists that he's been asking Adele to help him out, but she hasn't said yes yet!
He said "We've been talking but it's all like 'errr, errr.' Let's make a plea, let's make a petition and let's get this track done."
He also confirmed rumours that Adele is going to be singing the theme for the new James Bond film.
Fans can expect to see a new album from Tinie early next year.
But it isn't just songs he's writing at the moment, he's also been writing a book!
He told journalists: "My story is a pretty crazy one. I thought it would be nice to document it before I forget all about it on the next one."
As well as tales from his travels it'll also be full of snaps he's taken from all around the world.