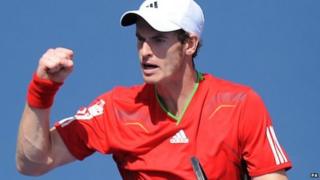 PA
Andy Murray raced to a straight sets win over Donald Young after in his rain-delayed fourth round match at the US Open.
They started on Tuesday, but constant interruptions by the bad weather meant they'd only squeezed in three games by the end of play on Wednesday.
When they took to the court again on Thursday, the British number one won, 6-2 6-3 6-3, in just under two hours.
On Friday, he's facing America's John Isner in the quarter-finals.
If he wins he'll have to play the semi-final, and possibly even the final within the next two days.