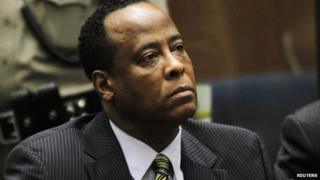 Reuters
The trial of Michael Jackson's doctor is expected to start in America in the next few days.
The singer died at his Los Angeles home on 25 June 2009.
His doctor, Conrad Murray, is accused of giving him a dose of strong medication which may have played a part in his death. Dr Murray says he did nothing wrong.
The case was due to start on Thursday, but the men and women on the jury have taken longer than expected to choose.
They have to answer lots of questions before lawyers decide if they can sit on the jury.
Dr Murray has been charged with involuntary manslaughter, which is when a person didn't mean to kill someone but may be responsible for their death.