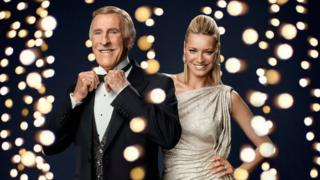 The new all star line-up for this year's Strictly Come Dancing has just been announced!
Waterloo Road favourite Chelsee Healey, heavyweight boxer Audley Harrison and McFly drummer Harry Judd are just three of the 14 contestants who will be hoping to tango their way to the Strictly trophy!
We want to know if you are looking forward to the start of the show? Will you be watching? Are you a big ballroom fan?
Maybe you think that this year's celeb line-up is the best yet? Or perhaps you reckon they need some different people to take part to make the show more popular?
Whatever you think, we want to hear from you!
Your comments:
"I will definitely be watching Strictly this year it. Love it!"
Olive, 10, London, England
"Well I love it and I wrote to Bruce Forsyth a couple of years ago saying 'please do an another series', and then Bruce himself wrote back! I can't wait until it starts."
Phoebe, 10, Lincolnshire, England
"I really want to see Strictly Come Dancing, but I don't think my younger cousin will let me. I mean, last year's competition was really good."
Leah, 10, Hertfordshire, England
"Of course, who wouldn't? The line up is great! Good luck Alex Jones."
Laura, 12, Leeds, England
"I can't wait to watch Strictly Come Dancing. I really want to see all the great dancing as I am a huge fan!"
Rebecca, 11, Surrey, England