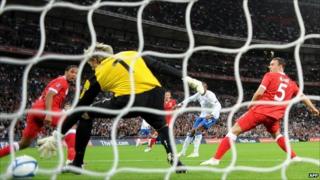 AFP
England have moved to within a point of Euro 2012 qualification after beating Wales 1-0 at Wembley on Tuesday night.
Ashley Young scored in the first half after some good work from Stuart Downing. England now top Group G by 6 points.
England will next play Montenegro - which they only need to draw to go through.
Elsewhere, Darren Fletcher missed a penalty at Hampden Park, but Scotland still beat Lithuania 1-0.
Steven Naismith scored the game's only goal in the first half, which means Scotland can still finish second after Spain won their Group beating Lichtenstein 6-0.
Three separate errors led Northern Ireland to a 4-1 defeat in Estonia, meaning their hopes of qualifying for next summer's European Championships are all but over.
The Republic of Ireland drew 0-0 with Russia.