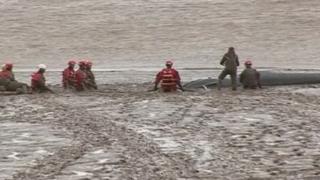 Other
A whale which was rescued when it became stranded on mud flats has died.
More than 50 people worked to free the 9m-long minke whale after it became stuck near Immingham docks, off the coast of Lincolnshire, on Tuesday.
It was hoped that it had found it's way back out to sea, but on Thursday, it washed up for a second time on a sandbank off Cleethorpes beach.
A team of vets and divers tried to help the whale but it later died.