Over 5,000 people have been driven from their homes in the US state of Texas as wildfires continue to devastate the region.
More than one thousand firefighters are trying to tackle the flames, but some are so fierce they're almost impossible to control.
Texas has had its worst drought for 50 years, so the dry land combined with high winds mean the fires are starting really quickly.
Over 1,000 homes have been destroyed.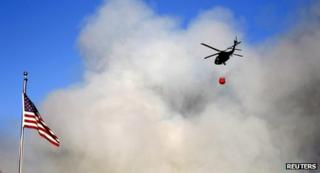 Reuters
The biggest of the fires is a huge 16 miles wide, in a place called Bastrop County. Schools were closed there on Tuesday because of the fire.
Firefighters are hoping that the strong winds will drop, allowing them to control the blazes more easily.