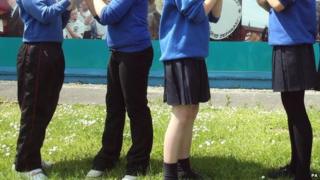 PA
Terms starting and some schools have got brand new uniforms or new rules about about what you should wear.
A school in West Yorkshire is banning skirts because it says pupils had ignored the rules about their lengths.
Do you think schools should be allowed to ban skirts? Or is it unfair?
Maybe your school's recently changed its uniform - do you like it? Or did you prefer the old one and you're annoyed that it's changed?
Sorry this page is now closed, but check out some of your best comments below.
Your comments:
"No way should skirts be banned! It's one advantage for girls to look more girly and I think girls should be given the choice to wear them or not. Some girls may abuse it and they're the ones who should be punished for it, not everyone else!"
Jade, 13, Essex, England
"I don't really care about banning skirts because I hate wearing them and all my friends were wearing really short skirts and I think it's very inappropriate"
Lauren, 11, Newcastle, England
"I wish my school would ban skirts because I have to wear a tartan kilt! I hate wearing it because it's really uncomfortable and ugly and you have to wear it on your waist, plus it's knee length. But I don't think normal skirts should be banned... girls like wearing skirts."
Macadie, 14, Hampshire
"I think schools should ban skirts because I am a tomboy and I feel stupid wearing them, especially when the girls wear them really high."
Hatty, 11, London, England
"A lot of children just want to be cool like older children, so instead of banning skirts I think schools should target the older children first. If they change, then smaller kids probably will too. My school just has a black and white dress code and I'm happy with that!"
Amber, 12, Scotland
"One of the teachers at my school complains about me wearing skirts that are 'too floaty' and that my socks are too long. But I stick to the schools uniform rules and no one bullies me about it so I'm fine with that."
Natalie, 12, Leciester, England
"Last year when I was starting secondary school my school introduced blazers to the uniform whereas before it was just jumpers. We have to keep them on all the time and at first I hated them but now I have kind of got used to them. They also tried to ban skirts but loads of parents protested so they've been kept. However people still wear them short."
Kate, 12, Sussex, England
"No way should they ban skirts, because when I put trousers on I look like a boy!"
Laura, 11, Leeds, England
"Our school (primary school) doesn't say anything about the length of skirts (yet!!!). But to be honest most people in Year 5 or 6 pull or fold their skirts to make them shorter. I don't think they should ban them though because lots of people only really like wearing skirts. Also trousers are too hot in the summer. So my point is that skirts shouldn't be banned."
Katy, 10, Cheshire, England
"I think schools shouldn't ban skirts because pupils should be allowed to wear their skirts short or very long."
Sumaiyah, 11, London, England
"I think they shouldn't be banned because some girls are sensible and wear them at the appropriate length, not really long but just above the knee, and it is unfair for them to have to wear trousers."
Madeline, 11, London, England
"Our school just got clip-on ties. Urgh, I hate them, they are too tight but school says it's for smartness."
Georgia, 12, Nottinghamshire, England
"Uniform makes you look smart, represent school, equal choice for all, but it can be uncomfortable."
Hinde House Y9 Support group, Sheffield, England
"I think it's not fair if you ban skirts because it's girls fashion. The best thing to do is not ban it but just give them a warning if they wear them too high, like a miniskirt, they shouldn't be worn at schools. So for example if they wore too high skirts you can send them to the office and they'll have a warning. If you have three warnings you're not allowed to wear a skirt at all for at least a month!
Sophie, 11, Milton Keynes, England
"If schools have a problem with a girl's skirt length then they should give discipline but not ban skirts. What are girls supposed to wear? Boys and girls are meant to be different and independent and banning skirts won't help that."
Kenny, 12, Staffordshire, England
"Yes it's very annoying because now we have to wear a jacket, trousers, shirt and tie, but before we were asked to wear fewer stuff. Also when you get up it takes a long time to put everything on."
Ayoub, 13, London, England