The number of pet dogs being abandoned is at its highest level in 11 years.
Animal charity the Dogs Trust says that 126,000 stray dogs were picked up by authorities in the past year - that's 345 every day.
Many people don't realise how expensive having a dog is or how much time is needed to look after them.
Lots of rescue centres are full, and that means that sometimes dogs have to be put down because a home can't be found for them.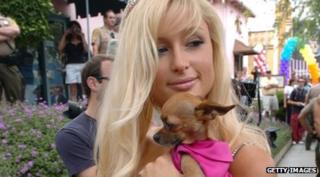 Getty Images
The Dogs Trust also says that too many people are treating their pets like fashion accessories, and don't know how to look after them properly.
The Saturdays have joined the campaign to try to teach pet owners how to respect and care for their dogs.
We've all seen celebs with tiny dogs carrying them around in handbags. Well the Dog's Trust says that there's been a big rise in the number of these kinds of dogs handed into rescue centres.
The Saturdays have dogs themselves, and Mollie says: "When you buy a dog you have to realise they are like taking on a new member of the family. So they are a huge responsibility, but they bring so much fun as well."
Vanessa says: "I couldn't think of anything worse than putting them in a handbag- they'd hate it!"