The penguin that got lost and ended up washed up on a beach in New Zealand has been freed back into the sea.
The young bird was given a lift part of the way home - before being dropped off in the Southern Ocean.
The emperor penguin will now have to swim the rest of the way back home to Antarctica.
He needed a little push, before sliding backwards into the water. He's been fitted with a tracking device so scientists can keep an eye on him.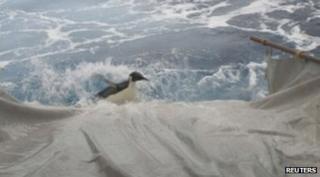 Reuters
The penguin, who was nicknamed Happy Feet, turned up on a beach in New Zealand in June, miles away from home.
He was returned to the wild this weekend after recovering from surgery to remove 3kg of sand from his tummy.
He'd been eating the sand on the beach, perhaps thinking it was snow.
Hundreds of people visited Wellington Zoo last week to say goodbye to the adventurous bird.