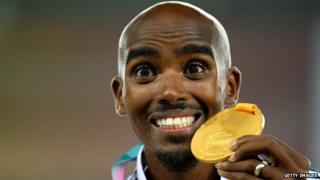 Getty Images
British runner Mo Farah has won 5,000m gold at the World Championships.
Mo, who earlier won the 10,000m silver, held off the challenge from US athlete Bernard Lagat of and Ethiopia's Imane Merga, to win in 13 minutes, 23.36.
After the race he said: "I can't quite believe it. I pictured the 10k on the last lap thinking, I came so close then I'm not going to let anyone pass me."
Elsewhere in the competiion, Phillips Idowu took triple jump silver - beaten to gold by Christian Taylor.
The 2009 world champion said: "It wasn't my day. I felt I had that distance in my legs but it never came.
"I jumped two season's best. It wasn't enough but hopefully I can do it next year [at the London 2012 Olympics] and get gold.
"Happy birthday to my daughter. Daddy got you a silver medal."