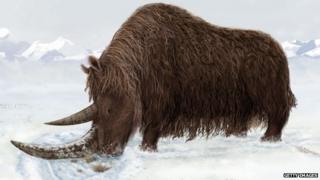 Getty Images
You've heard of the woolly mammoth, but did you know about woolly rhinos?
The oldest one ever has just been discovered, and scientists reckon it lived round 3.6 million years ago.
Dr Wang said: "It is at least a million years older, or more, than any other woolly rhinos we have known."
The fossil was dug up in Tibet in Asia, along with an extinct horse, antelope and snow leopard. It's a little bit damaged but scientists say it's been well preserved.
The rhino's horns didn't survive, which it's thought the animal would've used to sweep snow away in the frosty area that it lived.