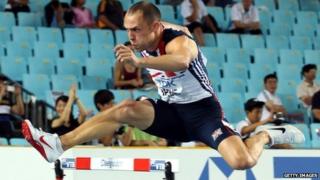 Getty Images
Dai Greene has won Britain's first gold medal at the World Athletics Championships, storming to victory in the 400m hurdles.
There were two false starts in the final, but the Welshman held his nerve to run a brilliant race and claim the gold.
Dai now has the World, European and Commonwealth titles in the 400m hurdles.
It was a great day for Team GB with Hannah England taking 1500m silver.
Talking after the race, Dai said: "I'm really relieved and really proud."
He added: "I saw Hannah England's performance and saw her running around with the flag, and thought I had to get a piece of that action."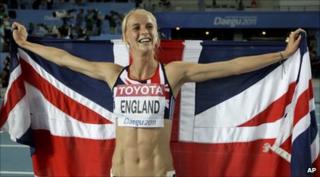 AP
It was the biggest race of Hannah's career, and with 200m to go she was back in seventh place and looked out of the medals.
But she upped the pace, and sped through the pack and to claim the silver.
Dai and Hannah's medals bring the total for Team GB up to 5 at the Championships in Daegu, South Korea.