Up to 100 families are being forced to move home because they are living in a camp against the law.
Some of the people who live at the site called Dale Farm in Essex have been there for 10 years.
It's the biggest unofficial travellers' camp in Britain. They own the land, but don't have permission to build homes on it.
The council are now sending people in to make them move on.
Some of the travellers have been offered houses to live in but they've turned them down.
Travellers are people who choose not to have a fixed home, and often move around the country from place to place in caravans. There are 18,000 traveller caravans in England.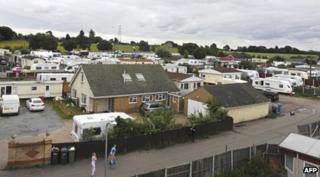 AFP
But there are often disputes between travellers and people living in the communities they settle near.
The top court in the country has ruled that the council is right to tell the Dale Farm travellers to leave.
Council leader Tony Ball said: "The council has spent the last 10 years attempting to find a peaceful solution to the illegal site at Dale Farm.
"A forced clearance has always been a reluctant last resort for us, but the travellers have left us with little option after exhausting the legal process."
But the travellers on Dale Farm say they're not going without a fight.